What low sea ice minimums mean for the Arctic—and the world
For many people, September means the kids are back in school, football season is underway, and the end of summer has come. For Arctic scientists, it is also the time of year that sea ice in the northern hemisphere reaches its minimum extent.
This year, scientists announced Arctic sea ice reached its minimum on September 18, when ice covered just 4.15 million square kilometers. Thanks to a slower decline in sea ice extent in the later part of the summer, the Arctic did not end up breaking the all-time record this year. Although the sea ice minimum was not lower than in the 3.4 million square kilometers that remained in 2012, it was the second lowest sea ice cover on record. But trust me, this is not a competition we want to win.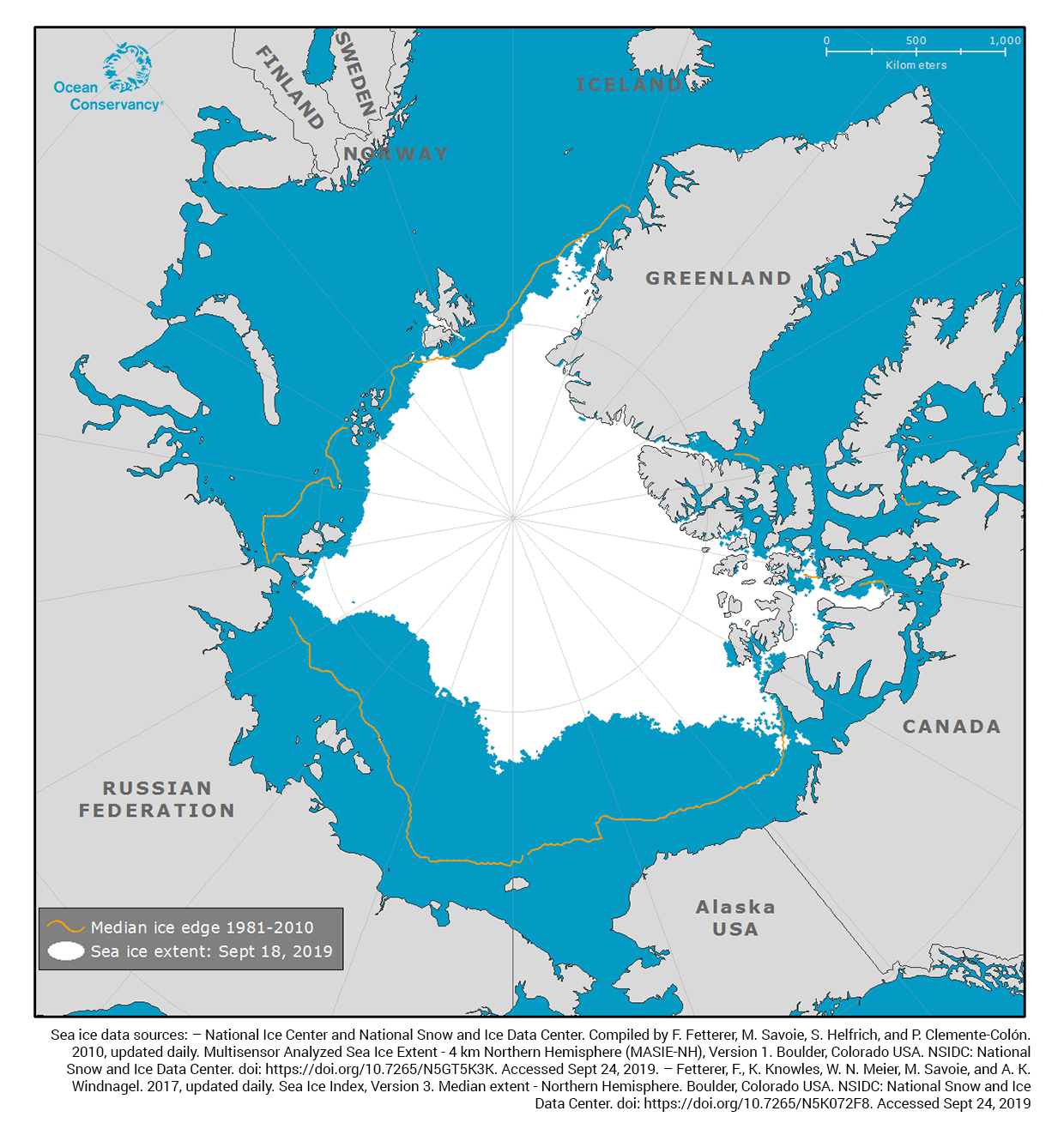 In case you missed it, the sea ice minimum is the point of the year at which the Arctic has the least amount of ice. It typically occurs in September, after many months of warmer temperatures during the Northern Hemisphere's summer. Although an annual cycle of melting and freezing is natural, climate change has produced a downward trend in the amount of sea ice that's left in the Arctic at the end of every summer. According to the National Snow and Ice Data Center, "[t]he 13 lowest extents in the satellite era have all occurred in the last 13 years." This downward trend in sea ice extent has major implications for our ocean and climate, and causes big challenges for the animals that rely on sea ice to live and hunt.
Decreasing sea ice extent affects every aspect of the Arctic. Wildlife like polar bears and walruses, which rely on the ice to hunt and breed, lose important habitat. Without sea ice to serve as a buffer against fall storms, wind and waves batter and erode Arctic coastlines, destroying infrastructure and threatening residents of coastal villages. And melting ice facilitates increased vessel traffic in the Arctic region, which puts the vulnerable marine ecosystem at greater risk for accidents and disturbance.
And (forgive us) some more bad news: Not only is the minimum extent of Arctic sea ice low, average sea ice thickness is less than half what it was this time of year 40 years ago, making the remaining ice that much more vulnerable to future loss.